More than half of FTSE 100 companies now have a board-level ESG committee – the next metric in ESG corporate comms
•  100% of Mining and Oil & Gas companies now have an ESG committee
54% of FTSE 100 companies now have an ESG* committee at board level as they join the global push for corporate responsibility, shows new research by Mattison Public Relations.
This rapid evolution in corporate governance comes as large UK corporates come under increasing pressure from shareholders to improve their performance on ESG metrics.
Mattison Public Relations says an ESG committee is becoming an increasingly common presence on FTSE 100 boards, alongside board committees that FTSE100 companies must have under the UK Corporate Governance Code ie the audit, renumeration and nomination committees.
Companies with good ESG credentials can benefit from attracting a wider base of investors. This improves their eligibility for ESG-focused funds, in turn improving the liquidity of their shares and supporting their share prices.
Nick Mattison, Director at Mattison Public Relations says: "FTSE 100 companies are taking big steps towards addressing their responsibilities on ESG. UK plc is showing its commitment to tackling climate change and reducing its impact on the broader environment."
"If you are a FTSE100 company without an ESG committee at board level then you are now in a shrinking minority."
Mattison Public Relations says that corporates establishing ESG committees are showing their commitment to meeting the government's 2050 Net Zero goal. Recent research showed that the UK's leading companies are taking Net Zero increasingly seriously, with 82% of FTSE 100 constituents setting out Net Zero goals to shareholders.
100% of FTSE 100 oil & gas and mining companies have ESG committees
Among the FTSE 100 companies that have ESG committees, 100% of oil & gas and mining companies in the index have an ESG committee on their boards. This includes major oil & gas producers like BP and Shell, as well as mining companies such as Anglo American, BHP, Glencore, and Rio Tinto.
By contrast, only 13% of the FTSE 100 companies in the non-bank financial services sector (including insurers, asset managers and retail investment platforms) have ESG committees.
"Sectors with low environmental impacts and no ESG committee are missing an easy opportunity to improve their ESG credentials."
Nick Mattison says: "Companies that are improving their ESG performance are doing so by setting Net Zero goals, reducing their emissions and investing in carbon offsets. An ESG committee facilitates the improvement of their ESG performance."
Of the 54 FTSE 100 companies which have ESG committees, 56% are comprised entirely of non-executive directors. Mattison Public Relations says the significant numbers of non-executive directors on FTSE 100 ESG committees allows companies to bring directors with expertise in ESG onto their boards. It also allows them to exercise greater independent oversight of the companies ESG performance.
Nick Mattison says: "Companies which have ESG committees made up entirely of independent non-executive directors allows the committee to provide constructive feedback and scrutinise the ESG programme of the company they work for."
*As of July 2022. ESG Committee also described as Corporate Responsibility Committee, Responsible Business Committee, Sustainability Committee and Environments & Communities Committee.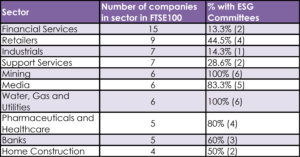 ENDS
About Mattison Public Relations
Mattison Public Relations has specialised in providing PR programmes for financial services, professional services and technology businesses since 1996. We assist businesses in clearly communicating their values to customers, investors, and other stakeholders, particularly on Environmental, Social and Governance matters.
We also deliver PR programmes based on thought leadership and proprietary research that drive improved market positioning and sales for our clients.
Contact
Nick Mattison
Mattison Public Relations
Tel: +44 (0)20 7645 3636